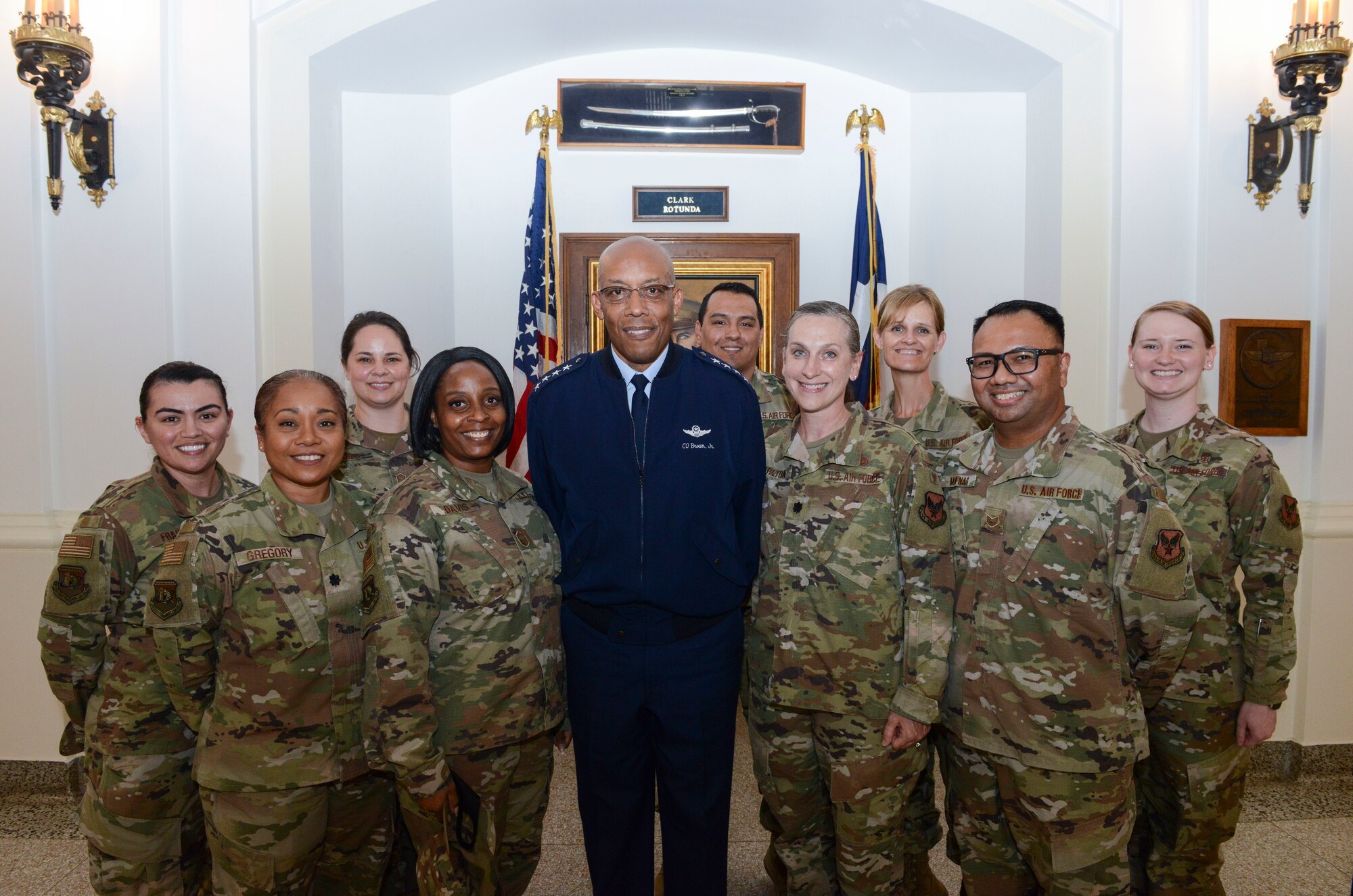 CSAF, CMSAF visit PSAC, talk talent management > Air Force > Article Display
JOINT BASE SAN ANTONIO-RANDOLPH, Texas (AFNS) —
Total Force Airmen and Guardians from Air Force Personnel Center visited with senior Air Force leaders during a call at Joint Base San Antonio-Randolph, May 20.
Air Force Chief of Staff General CQ Brown, Jr.opened the discussion by highlighting the PSAC's efforts in supporting airmen and guards over the past year, in addition to supporting global operations, including the withdrawal from Afghanistan.
























"You're dealing with individuals, their assignments and their families," Brown said. "Getting people to the right place at the right time."
Brown said when the ride changes, if we're not comfortable, we're probably not doing it right. This statement describes Brown's strategic approach when implementing action orders in Accelerate change or lose.
"We all have to spend some time being uncomfortable when we talk about acceleration…we don't want to lose," Brown said.
Throughout the year, as the Air Force commemorates 75 years of service, Brown warned that we must not rest on our laurels in our basic strategy. He briefed the crowd on mission command, a concept strongly defined in the revised version Air Force Doctrine Publication 1, Air Force.
Brown encouraged Airmen to read the 16-page document, trimmed from 200 pages, which focuses on the future and how Airmen should think about the future.
The key aspect of mission command is for leadership to use delegation, iteration and tolerance to provide intent and confidence to their Airmen, Brown said.
During the call, Brown and Chief Master Sgt. of the air force Joanne S. Bass jointly recognized four PSAC members for their outstanding achievements.
"It's so exciting to be here to hang out with you guys," Bass said. "I am especially honored to be here with General Brown, to see firsthand the importance of what this organization does for the United States Air Force.
The best part of my job is focusing on people," Bass continued. "Our most competitive advantage is our people."
Bass stressed that old policies and processes will not retain the talent the force will need over the next 10-20 years, reflecting on the changes she has seen over her 29-year career.
"If you think back to the early '90s, we had almost double the number of Airmen serving in the Air Force back then," Bass explained. "The status quo won't work for us today, and it won't work in the future. We have to focus on managing the talent we have well.
She explained how senior leaders focus on improving personnel programs, such as: postings, promotions, appraisals, inflation, housing and child care.
"There isn't a single thing important to you, your fellow Wingman, or even your loved ones that isn't important to us," Bass said. "The quality of life of our Airmen is directly linked to the effectiveness of our Air Force's mission."
Over the past two years, Bass has focused on strategies and plans to help drive the growth and development of Total Force.
Bass talked about the deployment of the Enlisted Force Development Action Planthe Planand the recently revised version Blue and Brown books. These resources are living documents and will be available in digital and hard copies for Airmen to access.
Brown, accompanied by his wife, Sharene, concluded his remarks by talking about agile combat employment to versatile aviators, and how cultural shifts and small things help accelerate change.
The event concluded with an opportunity for Airmen and Guardians to participate in a Q&A dialogue and a photography session. Bass continued his visit to the PSAC campus with Major General Troy E. DunnPSAC Commander.