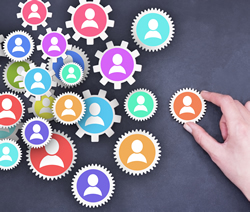 Talent management strategies that work
---
Omnicore* presents five effective strategies for managing talent.
---
A talent management strategy is a model for optimizing and expanding employee performance within a company.
It allows a company to develop a plan for improving and overhauling the organization's most valuable asset: its people.
The goal is to increase the effectiveness of the company's talent pool and to retain and attract talented employees.
However, the concept of talent management is constantly evolving as time and technology change the nature of work itself, making it difficult to build and maintain a strong talent pool.
Hence, this has created the need for a new paradigm associated with talent management.
Businesses need to adapt to changing demographics and job preferences, establish new capabilities and rejuvenate their organizations.
All this while simultaneously investing in new technologies, globalizing their operations and competing against new rivals.
Now more than ever, companies need to use talent management strategies to achieve their goals and stay competitive in today's rapidly changing business environment.
With this position as your roadmap, you can establish an integrated approach to managing all aspects of your organization's recruitment and development processes.
Below are 5 effective talent management strategies you should try.
Set clear goals
As a manager, it's your job to make sure the company's goals and objectives are aligned with the goals of your workforce.
First, employees must understand their responsibilities and the expectations of the company.
Then, through effective communication and teamwork, they can focus on the main business goals.
With defined goals in mind, your team will become more engaged in their work, committing to meeting milestones and achieving better performance.
Also, it increases the efficiency and effectiveness with which your business can implement business strategies and achieve results in a meaningful way.
For example, when hiring new talent, you should set clear expectations by establishing a detailed job description that includes the abilities and duties required for that position.
In addition, you should also stay in regular contact with new hires to establish what is expected of them.
Provide training opportunities
Quality training programs should be a priority for companies to provide employees with career development opportunities.
If you haven't built training into your talent management strategy, you might want to consider developing a training program tailored to your employees' unique field of work.
Investing in the professional development of your staff can be done in two ways: by sponsoring them to participate in an external training program or by organizing an internal training program.
Most companies have opted for online training programs, allowing employees to learn at their own pace and at their own pace.
They produce and disseminate interactive learning content using training tools.
Notable training tools could include micro-learning platforms, video training software, learning management systems (LMS), etc.
The other approach is to develop a training program specifically for use inside the company.
You can do this by offering mentorship programs with access to resources and training sessions.
Coaching your employees will ultimately help them learn more, improving their overall performance.
Conduct performance reviews
As a manager, you must evaluate the performance of your team.
Reviewing your employee's performance allows you to offer constructive criticism.
If an employee performs their duties to a high standard, you should take the opportunity to recognize and reward them.
Many companies have moved from annual performance reviews to more frequent reviews as part of their talent management strategies.
They use key performance indicators (KPIs) to assess past and current performance and readjust to achieve their goals.
Monitoring (KPI) also allows you to gain insight into potential knowledge gaps, identify current gaps and correct them.
This will help you gain management support and the ability to modify the process if necessary.
For example, if your company aims to improve its search engine performance, you need to track and measure the return on investment (ROI) of your SEO campaigns.
If the efforts bear no fruit, you need to resort to other tactics to achieve the desired results.
Alternatively, you can hire an SEO company that will improve your online visibility and traffic and increase your website statistics, such as leads, sales, and revenue.
Focus on employee experience
A company's talent management strategy should include a holistic employee experience with plenty of opportunities for growth.
Therefore, it is essential to determine how your employees can best contribute to the company's long-term goals and overcome specific challenges.
However, this may vary depending on the company's work culture, working hours and benefits.
If such situations arise, you will need to consider whether you need to hire more people or whether you need to implement a new benefits plan for your current employees.
It will also require you to establish a strong company culture that encourages your employees and fosters a sense of community.
This will provide them with a practical framework in which to grow and develop.
Adopt a flexible attitude
Workplaces today are unpredictable due to rapid technological advancements, changes in the global market, and political shifts.
Therefore, if your organization is going through a significant change of one type or another, it is more important that you are flexible and responsive to sudden changes.
You can effectively handle unexpected challenges or tasks by adapting to change quickly and calmly.
In summary, a manager who adapts to change is:
Adapt to the ever-changing external challenges of your business.
Adjust your management style as circumstances change.
Accept changes as positive.
Revise policies as needed.
Consider the concerns of others during a transition phase.
Flexibility has become an increasingly valuable skill in today's highly competitive environment, where unpredictability and change are often constant.
However, flexibility is not just about reacting to situations as they arise.
It also requires significant adjustments in the way you think, conduct your work, and act.
Conclusion
Companies need to develop strategic talent management strategies to help them retain top employers longer.
This requires setting clear goals, providing training opportunities, conducting performance reviews, focusing on the employee experience, and adopting a flexible attitude.
Using these talent management strategies effectively will keep your employees happy and motivated.
*Omnicore is a full-service digital marketing agency dedicated to delivering excellence in SEM, SEO, Analytics, Conversion, Reputation and Social Media.
This article was first published on talentculture.com.